For more than six decades, Thorne Nature Experience has provided youth with joyful, hands-on, place-based environmental education experiences that foster an emotional connection to nature. Whether through our School Programs, Family & Community Events, or our wonderfully varied Summer Camps, the organization has committed itself to providing unique ways for children to engage in the environment around them.
Now, Thorne aims to further strengthen the connections we help children form with nature by making it easier than ever for nature to come home with the whole family. We are excited to announce our new blog and photo system, both serving the purpose of expanding our nature education and creating new ways for lasting impressions with nature to form.
The Thorne Blog
Starting today, weekly blogs will be posted under the About -> News section of the Thorne website to help parents learn how they can continue place-based education methods into their homes, to shine a light on the current research showing the varied and lasting benefits of spending time in nature, and to showcase the Thorne staff and community whom our mission could not be achieved without, and more.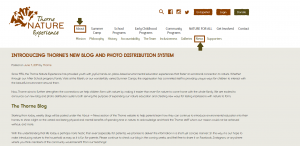 With the understanding that life today is perhaps more hectic than ever (especially for parents), we promise to deliver this information in a short yet concise manner. In this way, it is our hope to make introducing nature to your household as easy as it is fun for parents. Please continue to check our blog in the coming weeks, and feel free to share it on Facebook, Instagram, or anywhere where you think members of the community would benefit!
Camp Photos
We also recognize that some of the most magical parts of the Thorne experience are the memories and friends made along the way, which is why we are also excited to introduce you to our new photo system for this summer season. We'll begin using CampMinder's photo system so you can fill out forms, make payments, and view photos all in the same place. Photos will be uploaded throughout the summer season so campers can cherish the wonderful time they had at camp and parents can enjoy watching how their children bonded with nature during the experience.
How to Use the New Photo System
Viewing photos from Thorne Summer Camp is a simple and seamless experience which we'll describe in detail here.
Begin by logging into your CampMinder account on the Thorne website. Once you're logged in you'll see a photos icon at the top of your account page where you can start exploring. After clicking into this section of our site, you will be able to see all camp pictures from any week your child was enrolled in a camp and can use the filter system to search for the correct album of photos.
In addition to viewing photos of your camper at camp, you can also purchase photos! Whether you'd like a digital download, printed photo or even a mug, you'll have those options and more. To purchase one photo, simply hover over the photo and select "Add to Cart." To purchase multiple photos, scroll to the top of the page and click "Select Multiple Photos."
Lastly, if you'd like to share the camp experience, you can do that by creating a guest account for any family or friend. Once they've made their own account they too can view our photos of camp. Return to your account's homepage by clicking "Menu" in the bottom left and then "My Account." From here, just under the photos icon, you'll see a green key icon with the title "Guest Accounts." Click on this link and follow the instructions provided to set up a guest account.