EDVENTURER CLUB
Thorne's EdVenturers Club members are Thorne's most generous contributors who help us connect youth, and specifically our community's lowest income youth, to nature!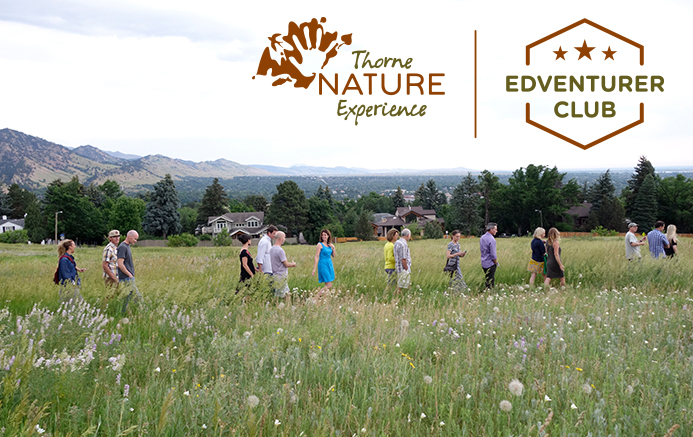 Thorne Nature Experience has been connecting Boulder County youth to nature through joyful, hands-on, place based environmental education experiences for more than six decades, and our mission is more important now than ever. As a result of increased "screen time" and the corresponding dramatic decrease in the amount of time youth are spending outdoors, today's youth, and especially our community's low-income youth, are suffering in greater numbers from obesity, social/emotional disorders, and poor academic achievement. Fortunately, Nature, Thorne's programs, and YOU have the power to address these concerns.
The kids in our community that have the least access to nature are disproportionately low-income and Latino. Many live in neighborhoods that lack nature and outdoor play spaces, as well as pathways to safely access nearby nature and outdoor recreation opportunities. In addition, their parents and families often are not nature connected and their schools lack the resources needed to ensure equitable access to nature and the outdoors or access to informal environmental education and outdoor recreation programming. It is for this reason that Thorne dedicates the majority of its efforts and energies to reach and engage low-income and Latino youth. Each summer we provide more than $100,000 in scholarships to our award-winning summer camp and during the school year we reach in excess of 7,000 youth through our in-school and after-school programs (more than 60% of these youth participate in their schools free and reduced lunch program and/or are students of color).
To accomplish this important work, we rely on generous support from individuals like you! It is our sincere hope that you will consider joining Thorne's EdVenturers Club by making an annual gift to Thorne of $500 or more. CLICK HERE to learn how your gift of $1,000 to Thorne might only cost you as little as $150!
The EdVenturers Club has been designed to help donors better understand the uniqueness, quality, and importance of Thorne's programs through an annual series of joyful, hands-on, place-based EdVentures. Our hope is that in addition to having a lot of fun, you will leave the events with an even deeper connection to the impact of the donations you make to Thorne.
These events are a fun way for Thorne to give back to the donors who make our important work possible and allow them a glimpse into the type of special experiences their gifts allow us to provide to our community's underserved youth. It is our sincere hope that we will see you at future EdVenturer events, once you have chosen to join Thorne in its efforts to improve the lives of our community's youth, and simultaneously help build the next generation of Earth stewards.

"Thorne's mission and programs for children are excellent and are needed now more than ever. I just love what you do and am honored to support Thorne!"
– Thorne Edventurer Club Donor