EDUCATIONAL PHILOSOPHY
The guiding philosophy of Thorne's education programs is summed up in our mission, "To build Earth stewardship by connecting youth to nature through joyful, hands-on, place-based environmental education experiences that foster an emotional connection to nature."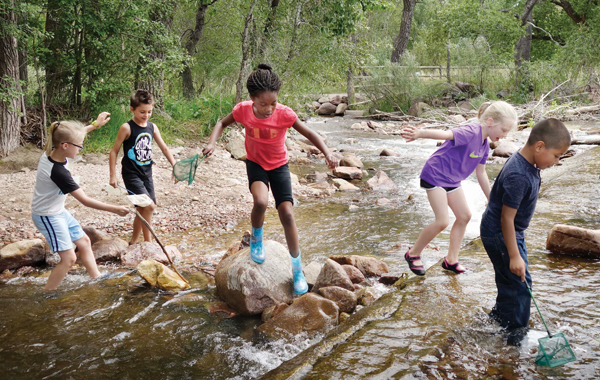 The primary goal of Thorne's programs is to build Earth stewardship, which we believe is best achieved by guiding students through a continuum of learning. The continuum begins at age three to five where we help our students to develop an awareness of the natural world by exposing them to the wonders of nature. Next we work with students ages six to eleven to help them acquire the knowledge and skills needed to understand the interconnections between nature and humans. Finally, for our older students, Thorne strives to instill respect for nature and stewardship of the Earth, by preparing students to weigh the impacts of their own actions on the natural world and make choices that cultivate a thriving, healthy environment that supports all life.
Thorne's programs build an emotional connection with nature, because we believe that developing feelings for the natural world leads to a desire to care for the Earth.
Thorne provides joyful education experiences, because we believe that all students learn best while having fun.
Thorne's programs encourage hands-on learning, because we believe that meaningful education grows out of experience – when students use their senses to touch, hear, see, or smell something in nature, they can more deeply understand it.
Thorne teaches place-based education, because we believe that direct association with the local environment is not only the best way to build a lasting connection to the natural world but is also fundamental to understanding and relating to global environmental issues.
Other principles and concepts that help to provide a foundation for our curriculum and programming include:
Social Emotional Learning– For many of our students, joyful experiences in nature can be difficult without first honoring the spectrum of emotions of our learners. By fostering a safe space for expression and reflection, and by encouraging the practice of empathy for self and others and the natural world, Thorne believes we can nurture an authentic connection with nature for our students.
Wild Nature Play– Thorne believes that unstructured time and active exploration in nature with a mentor encourages curiosity, appreciation, and wonder for the natural world.
Student-led Inquiry– Thorne values creating learning experiences that honor students' interests, curiosities, and opinions. Thorne endeavors to teach students how to think, not what to think about nature and the environment.
Repetitive Experiences– Thorne believes that consistent and frequent experiences in nature with a mentor are fundamental to developing nature connection. To this end, Thorne's programs are all multi-visit experiences, with an emphasis on providing as many opportunities to participate in multiple programs, over time.