LATINO FAMILY ENGAGEMENT
The Latino Family Engagement Program helps build enthusiasm among parents and caregivers to increase opportunities for Thorne's Latino participants to connect with nature beyond participating in Thorne programs.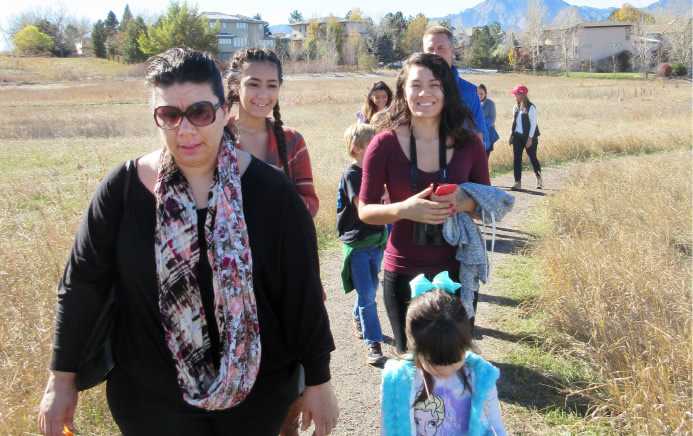 EVENTOS FAMILIARES al AIRE LIBRE
Thorne hosts bilingual (Spanish and English) nature events that are specially designed to appeal to Latino families. These events are marketed to parents of youth participating in our Nature Immersion Program (NIP), a program delivered exclusively at culturally diverse elementary schools in Boulder County. Family nature events are held each season at locations rotating between Sombrero Marsh Environmental Education Center and natural areas near schools participating in our Nature Immersion Program. These events help parents to experience first-hand the fun, hands-on learning that their children receive from participating in Thorne programming and also help to build familiarity and comfort with visiting parks, trails, and open spaces. CHECK BACK for a list of upcoming programs.
VINCULACIONES con la NATURALEZA
Thorne provides parents of our Latino students with resources that make it easy for them to help their kids connect with nature outside of Thorne programs. Tips for enjoying the outdoors with your family and ideas on places to visit including what to bring and how to prepare are shared via social media, e-mail communication, and print flyers.
PARTNERSHIPS
Thorne works closely with other organizations whose programming serves the parents of Thorne's Latino students. These partnerships simplify access to services and programs for families, ensure that Thorne is not duplicating efforts, and helps Thorne to effectively deliver messaging about the many benefits children receive from spending time outdoors and in nature. Partnering organizations also co-host nature-themed events and help to recruit participants for Thorne programs and Eventos Familiares al Aire Libre.