NATURE EXPERIENCE FIELD TRIP OVERVIEW
Thorne offers customizable Nature Experience Field Trips to schools and youth-serving organizations at both its Boulder and Littleton environmental education centers.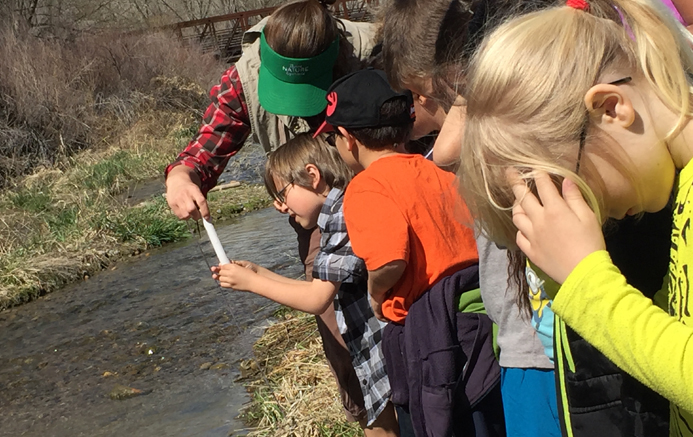 Nature Experience Field Trips can range in duration from one to five hours and include aquatic investigations, bird watching, and hands-on, educational activities in an outdoor setting. All field trips involve fun, experiential activities that connect participants to nature. For schools, Thorne's experienced educators can develop field trips that correlate to specific District and State Science Standards for grades kindergarten through eight. Nature Experience Field Trips provide a perfect complement to Thorne's In-School Programs, by building a connection between what was learned in the classroom and the natural world.
For more information, contact Thorne's Program Manager, Gwen Tenney, at gwen@nullthornenature.org or 303.499.3647 ext. 103.
---
"My favorite part was when we learned about the birds with you. I thought that was super-duper cool. Nature Rocks!"
– 10 Year-Old Field Trip Participant
What will participants do during the field trip?
Each Nature Experience Field Trip is different and tailored to the needs and interests of the youth being served. Most field trips involve a nature hike and age appropriate hands-on learning activities including catching and identifying macroinvertebrates and viewing, identifying, and banding birds. Thorne staff can also provide lessons on survival skills, climate change, and solar and wind power.
Where do field trips take place?
When are field trips offered?
Thorne typically offers field trips from mid-September to late-October and mid-March to mid-May. Dates fill quickly, so please contact Thorne as soon as possible to ensure we have availability on a day that works for your group.
What do my students need to bring for the field trip?
Each student needs to bring the following:
1.  Back pack
2.  Water bottle
3.  Rain Gear
4.  Sunscreen
5.  Sunglasses
6.  Hat or visor
7.  Comfortable shoes for hiking
8.  Appropriate clothing for weather conditions
9.  Lunch (for day-long field trips) *
*Thorne's goal is to become a Zero Waste Facility. To that end, please ask students and parents to plan low-waste lunches with little to no disposable materials, by using reusable Tupperware and reusable lunch bags, metal utensils, and no disposable packaging. While at the Marsh, students will use our Zero Waste Station to dispose of trash, recyclables, and compostables. Thanks for helping Thorne protect the environment and teach your students about minimizing waste.
How much do you charge for a Nature Experience Field Trip?
A typical 3-hour program costs $500 (for small groups of 12 or fewer youth, the cost is $250). If your field trip is longer or shorter in length, the cost will be adjusted.  Scholarships are available for schools or youth serving organizations with high percentages of low-income or Latino youth. Please contact Thorne's Program Coordinator at gwen@nullthornenature.org or 303.499.3647 ext. 103 if you would like to discuss receiving an Nature Experience Field Trip Program scholarship.
Can you help with expenses for busing?
For BVSD schools, free bus transportation is provided to and from Nature Experience Field Trips taking place at the Sombrero Marsh Environmental Education Center.  Once you have scheduled your field trip, Thorne staff will provide you with a confirmation e-mail that includes a phone number to call and instructions for reserving a free bus for the field trip. If you are a non-BVSD school, you must provide your own transportation to and from your Thorne nature Experience Field Trip in Boulder or Littleton.
How many students can you accommodate on a field trip?
Thorne can accommodate a maximum of 60 field trip participants at a time.
What happens in the event of inclement weather?
Thorne has adequate indoor learning space for large groups of students during adverse weather conditions. In the event of heavy rain, lightning, or snow, some or all of the outdoor activities will be replaced with indoor activities that convey the same educational material. If your district/school is on a one-hour weather delay or greater, then it is likely that your field trip will need to be rescheduled. Please monitor weather conditions prior to your field trip and contact Gwen Tenney any time after 8am in case you need to make a last-minute, weather-related cancellation.