BIRD BANDING
Under the direction of Thorne's founder, Dr. Oakleigh Thorne, II, Thorne Nature Experience has run a bird banding program since 1954. The majority of Thorne's bird banding activities are carried out during Thorne's Summer Camp and Bird Banding Club where youth are engaged in the hands-on science of banding birds.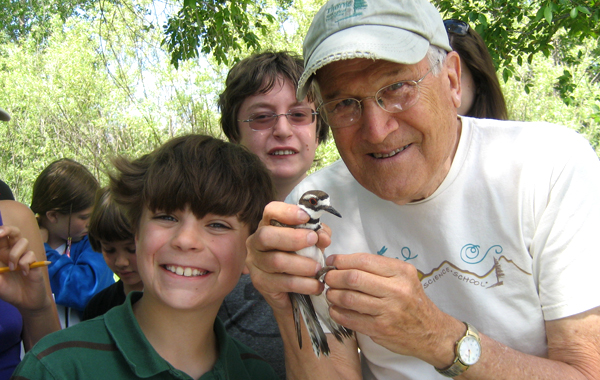 RESEARCH
Each year, Oak and Thorne students band more than 1,000 birds, as part of ongoing scientific research conducted by the USGS North American Bird Banding Laboratory. Data attained through banding birds is helpful in understanding bird populations and migration patterns. Thorne maintains two bird banding stations at the Sombrero Marsh Environmental Education Center, and also conducts bird banding activities on public and private land throughout Boulder County and the intermountain West.
SUMMER CAMP
Each summer, Thorne offers four weeks of bird banding camp for youth ages 12 to 15. Additional information about these "Camp Experiences" including dates, times, and locations are available in Thorne' Summer Camp print brochure or online catalog. Registration is available through our Summer Camp registration system.
BIRD BANDING CLUB
Thorne's Bird Banding Club for youth ages 11 to 15 meets once or twice a month for two hours after school, from February through May. The club is an excellent way for our older students to learn more about birds and participate in hands-on scientific research through catching, banding, and releasing birds.
Email gwen@nullthornenature.org if you are interested in receiving notification about our next Bird Banding Club opportunity or call 303.499.3647 for more information.
---
"The instructors are knowledgeable and fun to be around. I always look forward to another great afternoon of bird banding!"
– Alex Posen, Bird Banding Club Student