BIRD BANDING
Under the direction of Thorne's founder, Dr. Oakleigh Thorne, II, Thorne Nature Experience has run a bird banding program since 1954. The majority of Thorne's bird banding activities are carried out during Thorne's Summer Camp and Bird Banding Club where youth are engaged in the hands-on science of banding birds.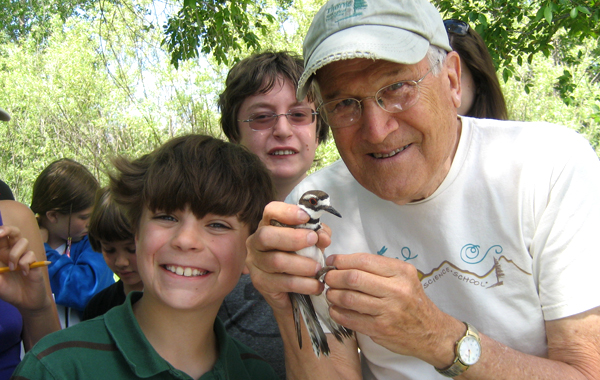 RESEARCH
Each year, Oak and Thorne students band more than 1,000 birds, as part of ongoing scientific research conducted by the USGS North American Bird Banding Laboratory. Data attained through banding birds is helpful in understanding bird populations and migration patterns. Thorne maintains two bird banding stations at the Sombrero Marsh Environmental Education Center, and also conducts bird banding activities on public and private land throughout Boulder County and the intermountain West.
SUMMER CAMP
2023 will be our final summer running the Birds & Bird Banding camp with Thorne's Founder and Master Bird Bander, Dr. Oakleigh Thorne, II for youth ages 12 to 15.
CLICK HERE to learn more about Birds & Bird Banding camp including dates, times, and locations.
CLICK HERE to register.
BIRD BANDING CLUB
Bird Banding Club, for youth grades 7 and higher, runs in April and May at Thorne's headquarters.
Join Federally-licensed bird bander, Dr. Oakleigh Thorne, II and Gwen Tenney, Nature Preschool Teacher, to experience the art and science of bird banding. Participants will work collaboratively with one another, gaining skills and hands-on experience in field identification and bird banding methods. Together, participants will practice to become expert bird banders using a combination of mist nets and solenoid traps to catch resident and migratory birds. Participants will learn to handle, properly identify, band, and record scientific information to be sent to the Federal Bird Banding Laboratory.
CLICK HERE for more info.
CLICK HERE to register.
BIRD BANDING APPRENTICESHIP PROGRAM
Coming soon- Thorne's new Bird Banding Apprenticeship Program which will be held during the school year. Stay tuned for details!
Email info@nullthornenature.org if you are interested in receiving notification when we have more information about this program.
---
"The instructors are knowledgeable and fun to be around. I always look forward to another great afternoon of bird banding!"
– Alex Posen, Bird Banding Student