PROMOTE
Thorne relies heavily on referrals from our campers' and students' parents and teachers to spread the word about our programs. If your children enjoyed Thorne Summer Camp or School Programs, we would love if you shared a little about their experience with your friends and encouraged them to sign their kids up for a Thorne "Camp Experience." Or, if you would like to see Thorne bring its educational and fun programs to your family's school, please help us by sending a note to their teacher or principal.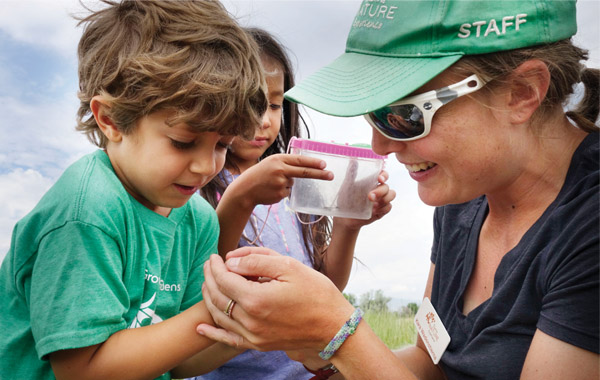 LIKE THORNE ON FACEBOOK
CLICK HERE to "Like" Thorne on Facebook!
FOLLOW THORNE ON INSTAGRAM
CLICK HERE to follow Thorne on Instagram!
FOLLOW THORNE ON TWITTER
CLICK HERE to follow Thorne on Twitter!
PARENT AMBASSADOR PROGRAM
Does your family love Thorne Nature Experience Summer Camp? Would you like to earn tuition credit or retail gift cards by helping spread the word about Thorne's fun, hands-on "camp experiences?" If you answered yes to both of these questions, then join our Parent Ambassador Program.
Becoming a Parent Ambassador is easy! CLICK HERE to read more about the program.
Refer-A-Friend
We know that while Thorne Summer Camp is super fun, it can be even more fun when your children attend with their best friends!
That's why we wanted to share information about Thorne's Refer-A-Friend incentive where both you and your friends win! If you are currently enrolled in the Thorne Summer Camp in BOULDER, you can get tuition credit and your friends get a special discount too (3-5 Year-Old Parent & Child Camps excluded). CLICK HERE to see complete instructions and rules.
CLICK HERE to invite your friends to check out Thorne Nature Experience's award winning environmental education programs.